Sometimes, it's hard to predict how much of a piece of gear to keep in stock. We over-stock some things and need to get rid of them later in order to make room for new, awesome gear, which means great deals for our customers! Check this closeouts page for our best deals on gear and bikes, then come by the shop when you find something you like.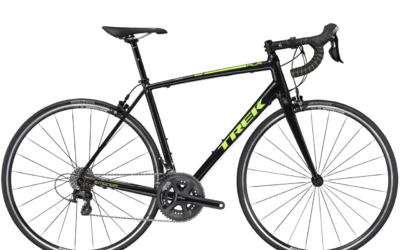 Black/Green 56cm and Waterloo Blue 58cm
Original Price: $1679.99
Closeout Price: $1379.99
You Save: $300.00
Description:
Trek rewrote the rule book with their Emonda ALR 5. Fast, light, and absolute joy to ride, the Emonda is crafted from 300 Series aluminum. Trek's wizards whittled the invisibly welded frame down to a weight on par with its carbon competitors, and gave it a ride quality that makes every outing simply better. Fast? Shimano and Bontrager have that covered with a complete 105 11-speed group powered by wide range, compact cranks and tubeless-ready wheels. Ditch the tube, say goodbye to flats and feel the road beneath you like never before. The beautiful ride continues, the full Bonty cockpit follows the light and fast theme perfectly. This is a lightweight, premium aluminum bike that rides brilliantly and costs less than 2k. We don't know how Trek did it, but we're glad they did, and you will be too.